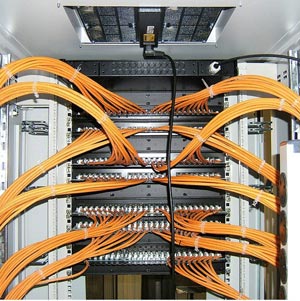 When you get successful, you may find that you move from someone else looking after your hosting, to running a complete rack (or racks) yourself. Standing with that shiny new rack towering over you, there seems so much space and flexibility, and anything not quite right now can be fixed later, right?
Correcting a bad installation will be extremely difficult, disruptive, or just impossible to do once you are up and running. Follow these tips in planning your rack before the first piece of equipment goes in and you will save not only time later, but you will be thanking me when the sh*t hits the fan.
1. Get Your Ventilation Right
Find out which way the servers vent, and mount them the right way round. According to the rather strict guidelines from https://path.network, if you get this wrong and not only will your servers run too hot, but you will likely be required to shut them down and turn them round – or they will be shut down for you.
Data centers have hot and cold isles. The air intake on the servers should be in the cold isle, and the exhaust should be in the hot one. All your servers should be mounted the same way round by airflow otherwise you can end up with the exhaust from one server feeding into the intake of another.
2. Choose the Right Switch
The more equipment you run, the less able you are to tell which equipment consumes which bandwidth. The best way to handle this is by using a managed switch. A managed switch will give you a facility to capture traffic statistics for each port and using a tool such as Cacti you can report on this.
3. Plan Where to Position Your Kit
Think about which equipment is likely to produce the most heat and put it near the top; not too high that its difficult to lift though. When mounting equipment on the back of the rack, think about where the servers will go and make sure you leave that space clear.
Plan networking to keep the cabling short and neat. Put the network switch at the top on the back where the servers have their networking on the rear. Then run the networking down
one side of the rack, and the power down the other.
4. Use the Proper Supports
It might be just you at the data center and if the server you need to get to is at the bottom of a stack of unsupported servers you might be in trouble.
If your servers come with rack rails, use them. Make sure your servers are properly supported so that each one can be removed independently; use rack shelves for servers without rails.
5. Plan Your Capacity
Think about the amount of equipment you will likely install in your rack, and size your network and power accordingly. By this I don't mean bandwidth into the rack – this can easily be upgraded down the line.
What matters now is that you plan enough network ports for the equipment going in the rack. Make sure you take into account not just the servers, but other equipment such as Masterswitches, KVM etc. Its cheaper to put in a 24 port switch now, but it will be a real pain to swap it out for a 48 port one later.
6. Use Remote Power Management and Fuse It Correctly!
The ability to power-cycle your own servers either using on-board management or a remote power management unit such as the APC Masterswitch can be a godsend. For a small cost you can bypass the remote-hands of the data center and be in control of things. This is particularly important if the data center is not manned 24 hours.
If you install power distribution or management, make sure you fuse the supplies according to the load they are capable of drawing. Here in the UK, an 8-port Masterswitch is capable of handling 10 amps. Make sure its supply cable and fuse are capable of this. If your cable is fused at 5A, you won't know about it until the fuse heats up and melts the plug; this will be a slow death and when it eventually fails, it will happen either at your busiest time, or in the middle of the night.
7. Run Dual PSU Servers off Dual Mains Supplies
If you are lucky enough to have servers with dual power supplies, make sure each supply is fed from a different power source. This could be two separate Masterswitches or even two separate incoming mains supplies to the rack. The server is designed to happily run on a single supply and so this arrangement will give you the best redundancy in the event of a failure.
To power cycle the server you will need to shut down the power to one PSU, and then cycle the other one, finally bringing the first supply back.
8. Keep Power (& All Cabling) Accessible
Once your rack fills up, the access you had to the spaces between the front and rear of the rack will be gone. Make sure the incoming mains supply and distribution will still be accessible, and your incoming cable feeds (most likely in the floor) are kept clear in case you need more cabling installed.
If your power distribution has been fitted in the middle part of the rack or behind the rear mounting rail, MOVE IT NOW – while you still can. Visualise your rack full of equipment and make sure you will still be able to access all power and network.
9. Program Network Equipment Before You Install It
Once your switch is installed and in use, you don't want to discover it needs a reboot to configure it. Make sure switches are set up before you take them to the data center.
10. Label Everything, Front and Back
I can't stress this too much. Invest in a Dymo and label everything on the front and the back, and if it has a cover, label that too. It might not be you visiting the equipment in the future, so it needs to be very obvious to someone who may not have seen your rack before which server you want them to look at. This will also help when you are there in an emergency and need to be sure the server you are messing with is the right one.
11. Maintain Up-to-date Documentation
Every time you make a change to your equipment, make a note of the change. If you alter power, update your Masterswitches. If you add some network, update your switch/monitoring. You can't effectively manage your servers if you are not 100% sure you are looking at the right thing. Imagine power cycling a server, only to find you just killed the wrong one!
12. Get Your Own Monitor and Keyboard
Data centers usually provide a trolley with a keyboard, mouse and monitor – so you don't need your own there … right? Wrong. Imagine you are there in an emergency needing access to one of your servers only to find you need a USB keyboard and the only one on the trolley is PS2. Or you turn up after a failure and there are half a dozen other engineers there fighting over the same trolley. It does happen.
Invest in your own; a number of companies make a 1U monitor with keyboard, so it won't use up much space and its not expensive.
13. Use KVM / Server Management Over IP
It can be a very handy thing to know what's on the console screen of the server in your rack. An IP KVM will allow you to be standing at the console of that server from the comfort of your own desk. This can be extremely useful in the diagnosis of problems, and will allow you to recover a server you just broke the network configuration on! Another way to accomplish this is with a management card installed on the server.
14. Keep Cables Tidy
Don't just use the extremely long power cables which came with your server. Buy a range of lengths and aim to keep them as short as possible. Cable tie the power lead to the back of the server so that it can't accidentally be dislodged. Make or shorten your own network cables so they are exactly the right length. Use plenty of cable ties to keep things neat and make sure the connectors are not under any strain.
15. Keep Tools and Spares on Site
If space allows, install a rack drawer in your rack, and keep a range of spares in it. These should include:
power leads
fuses
network cables
cable ties
rack nuts and screws
tool kit including screwdrivers, pliers and cutters
documentation