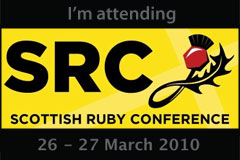 There's a few tired faces around the Setfire HQ today, after an exhilarating weekend spent at Scottish Ruby Conference. We had a cracking time – we met up with some old friends, made a few new ones, and attended some great talks. Here are our favourites:
Other highlights included Getting the most out of ActiveRecord 3 with Arel, Breaking things with Ruby and Distributed Architectures with Rack, and, for Rob, listening to me snore. Poor chap.
Thanks to the organisers:
… and see you next year!