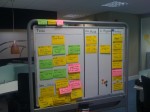 Over the last couple of years, we've got heavily into agile methodologies – in particular, Scrum and Kanban. Here are three of our task boards, from three of our current main projects.
This first board has evolved from a Kanban board introduced by Andy P. It features the Icebox, Todo, On Hold, In Progress (limited to 2 stories at a time) and a Review column. Done tickets are stuck to a nearby wall – with competitions as to who can get them the highest with a running jump!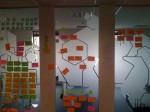 This rather messy Scrum board is a work in progress, and utilises the three windows between one of our offices and the games room where we play besøk slotzo games. It features a full product backlog, a sprint backlog, In Progress and Done ('Done Done'!). Team members like to place the postits below individual members/pair names so we've added this on.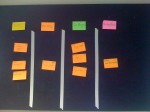 Our last board is a modest but effective Kanban approach for a small team. One thing that's interesting with this project is that initially the team didn't have a daily standup/scrum – but after using the board for a couple of weeks, they felt one would help them keep each other updated so started one.
We've really felt the benefit of agile working, and the 'informative office environment' is a big part of it. I personally have a lot of love for tools like Pivotal Tracker, having previously used it on a big project – but there's definitely something to be said for the tangible Post-It note plus Sharpie formula.