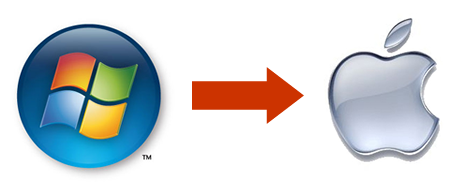 Having just made the jump from Windows PC to Mac, I thought it might be helpful to share some of my findings from the other side.
Screenshots
A basic one, but well worth mentioning – as well as the usual screen shot familiar to windows users, there's also the option to select a portion of the screen with your mouse cursor. To capture a portion of the screen, just press cmd+shift+4. You'll get a crosshair that you can drag and click with to select a rectangle. This is then saved as a file. To save to the clipboard, just use ctrl+shift+cmd+4.


Remote viewer
Something slightly less well known about Leopard is that it has a good VNC client built in.
Go to finder, press cmd+k and you'll get the connect to server window.
Type in vnc:// followed by the ip address of the desktop you're trying to connect to, then press connect.
I use this when we're testing something in Browsercam, as it's much better than the Java VNC client they provide.