Those of you who use WordPress on your own websites will likely encounter this problem pretty soon.
Installing the latest Flash version 10 will disable the ability of any web platform that uses the SWFUpload library due to security reasons. To put this into context it will cripple the upload ability of WordPress, Flickr, Yahoo, zooomr – along with many more services I'm not aware of.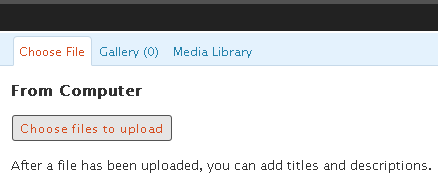 In WordPress you click you Add media > Add an Image, and from there click on Choose Files to Upload, only for nothing to happen.
It's especially annoying as Flash Player 10 is a BETA release that has been forced upon users with all download links across the web being redirected to this version. It seems Adobe couldn't be bothered to inform the rest of the web they were closing the door on this function, and couldn't be bothered doing their own bug testing in-house before release.
This is how to fix it (and yes it involves downgrading Flash):
1. Uninstall Flash Player 10
Download and run the official Flash uninstaller:
http://www.adobe.com/support/flashplayer/downloads.html#uninstaller
2. Install Flash Player 9
Adobe have gone to great lengths to make it very hard to find legacy versions of Flash. Let me save you some time since I had to hunt down the archives myself. You'll need to download the Flash Player 9 (99 MB) archive which includes all installers for Mac, Linux, Windows and Solaris.
http://kb.adobe.com/selfservice/viewContent.do?externalId=tn_14266&sliceId=1
From here read the included readme.txt file to see which version you need. (I'm use FireFox on Windows XP so I installed 9r124/flashplayer9r124_win.exe). You can delete everything else you don't need.
That's it. Your WordPress image upload should work again.
Internet Explorer will be more troublesome, but I'd advise using Mozilla Firefox anyway as it's fast and generally more intuitive.
Hopefully Adobe will find a way to fix these security issues without affecting so many online services that have come to rely on its previous functionality. In the meantime here's some more reading if you're interested.