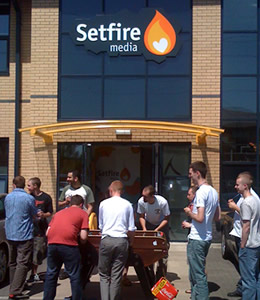 Last Thursday we celebrated a year since the launch of Setfire Media. It's been a great year for Setfire, with some major product launches, new staff and some important projects making big strides forward. We've expanded to take over both floors of our office and have the strongest team we've ever seen!
We celebrated with a team lunch, quick speech and, of course, a round of 'Outside Table Football' (or OTF for short!)
Thanks to our team and our clients for making this a cracking year.